Get Well Flowers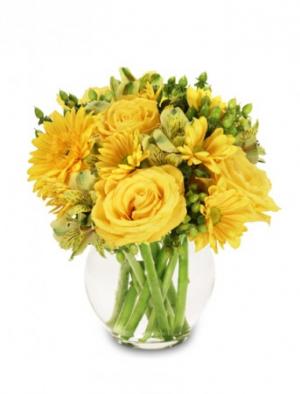 Sunshine Perfection
Floral Arrangement
Talk about a ray of sunshine! This bunch of yellow roses, alstroemeria and gerbera flowers in a simple vase is a burst of happiness. Let this flower arrangement spread some sunshine to the perfect people in your life.
$55.00, $60.00, $65.00
Shown at $60.00
Hospitals and Health Care Providers in Our Delivery Area:
---

Name
Address
Phone

---

Residence Domaine Du Lac
9650 Boul Des St Canut Mirabel, QC. J7N 1M5
(450) 565-3902
Residence Gens Du Pays
13800 Rue De L'eglise Mirabel, QC. J7J 1N3
(450) 437-2284
Residence St Augustin
15152 Rue De Saint-augustin Mirabel, QC. J7N 1X2
(450) 475-7850
Residence Ste-Monique
14141 Rue Saint-jean Mirabel, QC. J7J 1Y7
(450) 475-6767
Villa Des Roses
Cp 9 Succ Saint-canut Mirabel, QC. J7N 1H7
(450) 433-0124
Centre De Santé Et De Services Sociaux D'argenteui
145 Av De La Providence Lachute, QC. J8H 4C7
(450) 562-3761
Residence Beau Sejour
63 Rue Princesse Lachute, QC. J8H 4K5
(450) 562-1401
Residence Des Sources
275 Av De La Providence Lachute, QC. J8H 3R8
(450) 562-0400
Residence Jardins Du Bel Age
350 Av Bethanie Lachute, QC. J8H 4G8
(450) 562-7846
Residence Le Medaillon D'or De
401 Rue Thomas Lachute, QC. J8H 4M8
(450) 562-0775
Lakeside Home
518 Rang Ste-philomene Oka, QC. J0N 1E0
(450) 479-1115
Manoir Oka Inc
2083 Chemin Oka Rr 1 Oka, QC. J0N 1E0
(450) 479-6447
Residence Des Saisons
25 Rue Lapierre Rr 1 Oka, QC. J0N 1E0
(450) 479-1607
Whether you're under the weather or down in the dumps, FLEURISTE ST-BENOIT- Ann Marie Maurice has just the cure! Flowers never fail to lift spirits, and who needs it more than someone sick? Let us hand deliver your special Get Well gift to any local hospital or home. Get Well Soon gift baskets are also available and are great snack items for those who need their bedrest. Need to send flowers to a sick loved one out of the area? Give us a call, we can do that too!